We looove Halloween in our house.  My son has pumpkins in his room all year long, and of course we read our Halloween books all year long too!  Here are some of our favorite children's books for Halloween.
Room on the Broom by Julia Donaldson
Illustrated by Alex Scheffler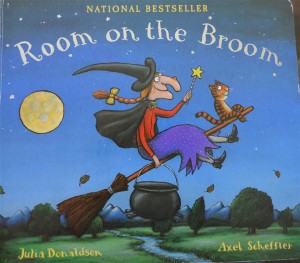 The sing song rhymes in this book always make me smile as I read to my children.  The witch drops her hat, her bow, and her wand.  Each time she flies down to retrieve a lost item, she comes back up with a new animal friend.  Very cute book!
The Hallo-Wiener by Dav Pilkey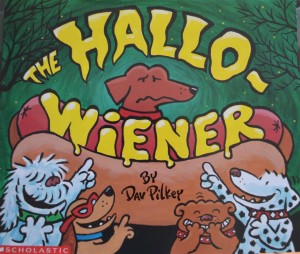 This was one of the first books my son ever checked out from the school library in Kindergarten.  What a pick!
All the other dogs are always making fun of Oscar because he is a wiener dog.  His mother doesn't help when she gives him a hot dog bun for a costume for Halloween.  But, when the other dogs get into trouble on Halloween, it is Oscar who saves the day.  Will he finally get some respect from his peers?
Skeleton for Dinner by Margery Cuyler
Illustrated by Will Terry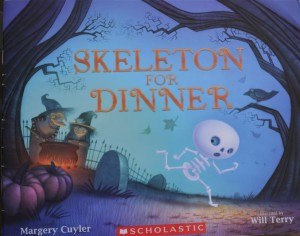 Big Witch and Little Witch want to invite Skeleton, Ghost, and Ghoul for dinner.  Skeleton sees the guest list, and thinks the witches want to eat him for dinner.  This book has adorable illustrations and beautiful blue, purple, and black scenery.
Curious George Haunted Halloween  Adaption by C.A. Krones
Based on the TV Special Curious George: A Halloween Boo Fest
written by Joe Fallon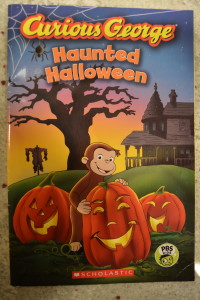 This is the story about our favorite little monkey's first Halloween in the country.  It is based on Curious George's TV  Special : A Halloween Boo Fest which we watch every year.  Find out if No Noggin really exists…if you dare.
Disney 5- Minute Spooky Stories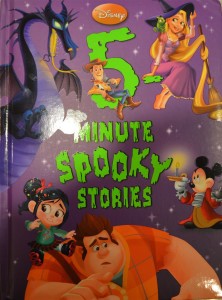 We have a few of these Disney 5 Minute Stories books.  This book has not so spooky stories starring your friends from Toy Story, Tangled, Finding Nemo, Winnie the Pooh, Sleeping Beauty, Monsters, Inc, Peter Pan, Aladdin, Cars, Beauty and the Beast, Wreck-It Ralph, and of course Mickey and friends join in the fun.  Since everyone in our house loves everything Disney, this is a great Halloween book for us.